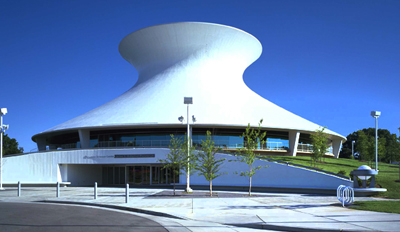 Here is a nice deal for a 1 year family membership to the St Louis Science Center!
$39 for a Family and Friends membership (reg $85)
The Family & Friends package includes six parking passes, 10 OMNIMAX tickets, and each time you visit, you receive six passes to the Planetarium show, Discovery Room tickets and LEGO Mindstorms tickets, as well as member-rate discounts on featured exhibitions. If a family of four goes to an OMNIMAX movie and visits all the attractions in one visit, you've already saved on the $39 deal price for parking and movies; multiple trips equal even more savings.
OR
$85 for a Family and Friends MAX membership (reg $175)
The MAX membership package increases the total number of OMNIMAX tickets to 24, includes unlimited parking and raises the level of tickets per visit for the Planetarium show, Discovery Room and LEGO Mindstorms to eight per trip. Each package also includes 20% off enrollment in summer science camps, invitations to members-only exhibition previews and waived service fees for ticket reservations.
Vouchers can be redeemed thru Dec 11th and will be good from 1 year from the date redeemed!
Go
here
to see both deals.